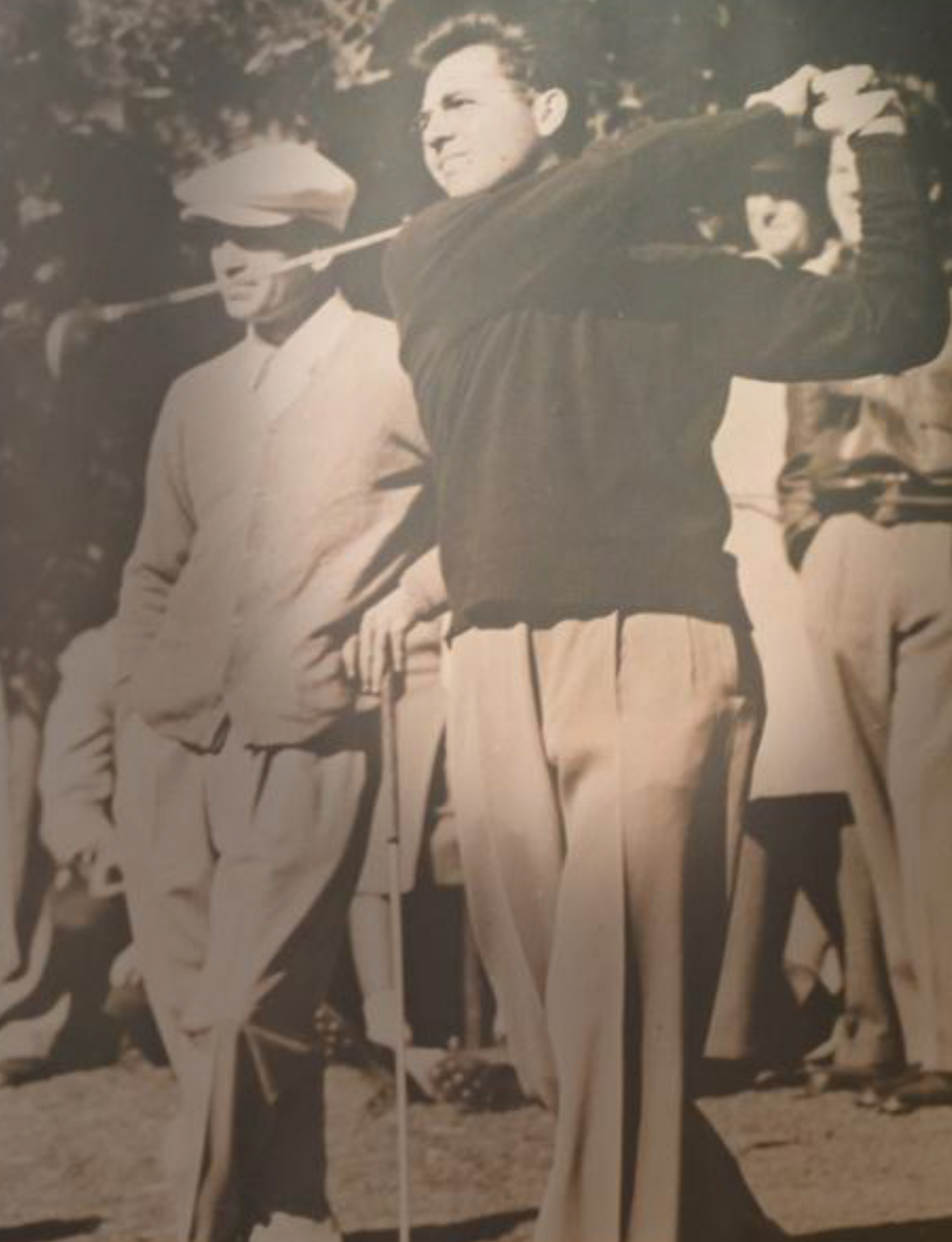 During the research and development stages of defining just how Golflexx will help to increase range of motion as well as preventing injury, PGA Professional and Southern California Hall of Fame inductee Eric "The Sheik" Monti, seen here playing with Ben Hogan, played an integral role in the design. Eric Monti was a three time PGA tour winner in the 1950's and 1960's. Known as the "Pro to the Stars" Eric taught the likes of Henry Fonda, Burt Lancaster, Danny Thomas, Dinah Shore, Danny Kay, Jack Benny, President Richard Nixon and many more while holding the head professional position at Hillcrest Country Club located in Southern California.
Eric knew the benefits of stretching prior to playing a round of golf and always adhered to a regiment of warm up exercises. While on tour playing with some of the greats like Ben Hogan, Gene Sarazen, Gary Player, Gene Littler, Jimmy Demarit and more he remembers how only a handful of golfers performed stretching exercises.
As Eric became one of the greatest golf instructors of his time he knew in order to make a proper hip turn and complete his follow through he needed flexibility more than strength. Stretching played a major role in getting his shoulders, hips, back and arms warmed up so they could perform at their peak.
When Eric was introduced to the concept of having a tool in his bag which would be able to help him perform at his best by giving him the ability to "Stretch It Out" he was all on board to help with the research and design. His input on pre-loading the Golflexx making it easier to use was critical for seniors who were having physical issues getting a rigid golf club behind their back.
Golflexx became the tool Eric used on the range as well as during a round of golf. Because the PGA ruled that Golflexx is allowed to be carried in your bag, Eric felt it a mandatory tool used throughout his game. He used Golflexx to help many of his students become more flexible before they even touched a club. Eric Monti used his Golflexx consistently during his senior years to give him the edge he needed as well as to prevent injury.